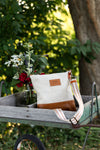 Handmade Quality
We don't mass produce. Every stitch, every bag, is made with care.

Made in the USA
Beautifully made in Skagit Valley, Washington by our talented staff.

Limited Edition
Because we change our designs frequently and love using one of a kind and unique leather and textiles, all of our products are limited edition. Many of our products are also one of a kind!
Shop Products